Save right away and in the long run.
You save right away when you purchase a new Dow Honda. You get a great price upfront with complete transparency and without the hassles. In the long run, you get the award-winning customer service that we've built our business on -  all at no extra cost to you.
We've built our business on customer service.
Since 1974, we've been fortunate to have received multiple customer care awards from Honda Canada, including our most recent successive Honda Driving Excellence designations. The greatest reward, however, remains the same today as it was in the beginning: knowing you're satisfied with a job well done by our team,  and we're getting you on your way to enjoy your Honda.  
Personal Service Commitment
Enjoy personal service in a relaxed environment. 
It starts on day one: we'll find you the Honda you want without the pressure. Expect excellent customer service from great people, starting with a smile and a hello the minute you walk through the door, everyday. Choose us for our total commitment to your satisfaction.
Generations of Experience
We're Ottawa's Original Honda Dealership.
Dow Honda is Ottawa's original Honda dealer, first established on Carling Avenue at Dow's Lake in 1974. Since that time, we've built our business by providing the very best long-term care to generations of Ottawans, and have learned the thing or two about listening to your needs and providing the best care for your beloved Hondas. Have peace of mind knowing you'll have a rewarding Dow experience for years to come.
You're covered with tire and rim protection. 
When you purchase a new Dow Honda, you receive $200 off one year of Honda Plus Tire and Rim protection (you pay only $59 + tax). Should you wish to extend that coverage, you'll also have the option to do so, as you wish. Either way, we've got you covered!
No matter where you are in Canada, you'll be protected. 
Honda Plus Tire and Rim Protection at Dow Honda covers all costs related to tire and rim repair or replacement. You'll never use a deductible or pay out-of-pocket.
We'll cover up to $100 in towing costs and chip in $50 per day for food and lodging if you're more than 400 km from home. If you'd like more protection, just ask us.
CHOOSE DOW

FOR OUR AT-HOME OPTIONS. WE'LL COME TO YOU TO TEST, TRADE, PURCHASE AND EVEN DELIVER YOUR VEHICLE. 
For your convenience, we offer safe, contactless options so you may test drive, trade-in, purchase and deliver vehicles from the comfort of your home. 
SHOP FOR YOUR NEW HONDA: Shop at the Dow Honda Website Express store on our website, pick the vehicle you're interested in, and send us a test drive or purchase request. Any questions? Just contact us.
BOOK YOUR HOME APPOINTMENT: We will contact you to book at appointment at your home for a sanitized and safe test drive and trade-in evaluation if you have one. We'll answer any questions you may have by phone, voice chat, text, or in person. All contactless, and everything is sanitized before and after our visit. 
PURCHASE YOUR VEHICLE: Should you wish to purchase a new Honda, we'll finalize all the details for you in the dealership, including your virtual trade appraisal and at home delivery service, should you desire.
CHOOSE DOW

 AND BUY WITH CONFIDENCE. ENJOY PEACE OF MIND WITH FULL-TERM WALKAWAY FINANCE PROTECTION™
When you finance or lease from Dow Honda we've got your back! If your financial or health circumstances change along the way, and your monthly payments become a source of stress, WALKAWAY® can help.
If you experience one of the six covered life events, like unemployment or physical disability, you can return your vehicle to the dealership without affecting your credit rating, and cancel up to $7,500 of your automotive debt.
We have a variety of options that allow you to extend your WALKAWAY protection that will enhance your protection to cover more unexpected life events, and even add Payment Relief® to help keep you in your vehicle through difficult times.
This represents a summary of coverages and does not form a part of the certificate of insurance. Please consult your certificate for complete details regarding how you qualify. Employment-related coverages (excluding disability) begin on the 91st day. Insurance Insight Inc. is the brokerage, and Trisura Guarantee Insurance Company and The Empire Life Insurance Company are the insurers of WALKAWAY Finance Protection™.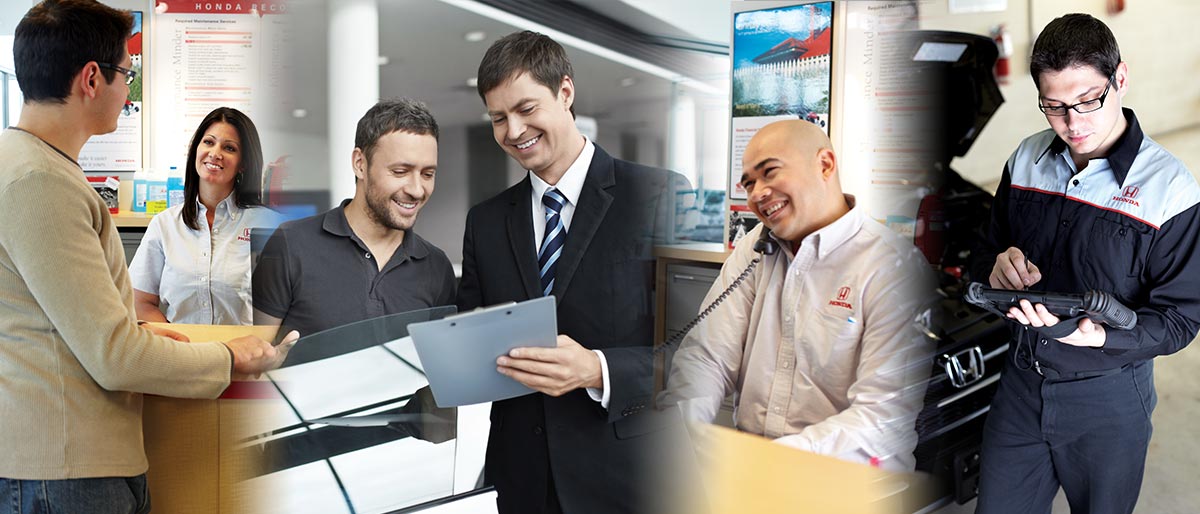 CHOOSE DOW

FOR FAST, TRANSPARENT, AND COMFORTABLE AFTER-SALE SERVICE.
Get on your way quickly with drive in service lanes for quicker and easier check-in of your vehicle and a series of express services.
Complete transparency – literally! Watch our skilled technicians take care of your car from the comfort of our customer lounge.
Experience a modern space designed entirely with you in mind. Stay connected with the Bell Wi-Fi. Savour complimentary award-winning Reunion Island Coffee. Enjoy the open spaces to browse and relax while your Honda gets the best care anywhere.
Disclaimer
By submitting your email address or phone number, you allow us, Dow Honda, to include you on our contact lists to send you information about our products, services and promotions. You may revoke consent at any time by clicking on the "Unsubscribe" link in your email.