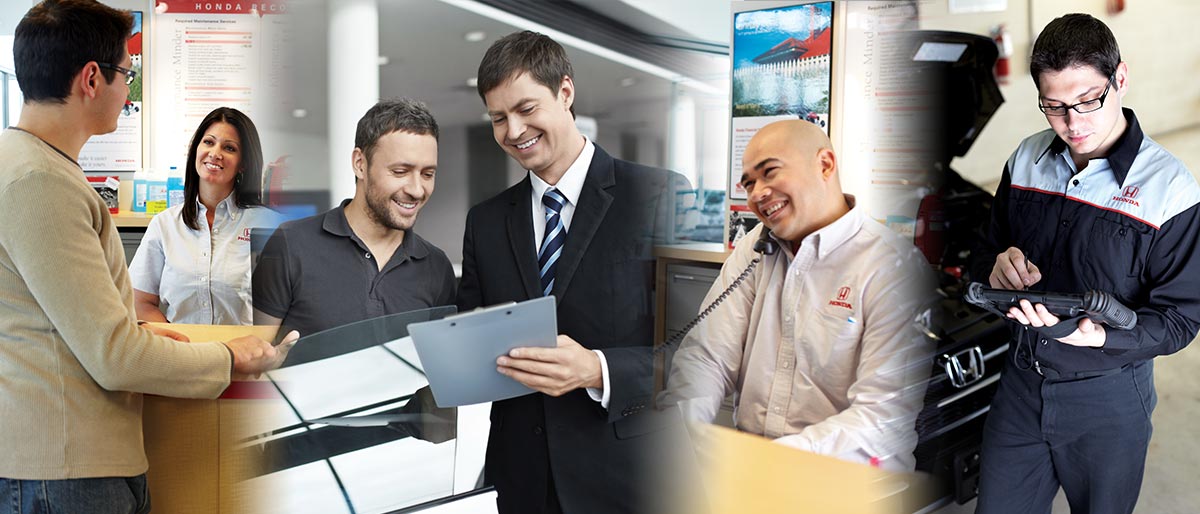 Careers at Dow Honda
Since 1974, our goal has continued to be providing exceptional customer service to our clients, and we have been able to do so because of our incredible team! If you believe in working in a team environment, with various opportunities for growth and training, then DOW Honda is the place for you!
We are always looking for qualified individuals to join our organization. If a position is not available, we still encourage you to forward your resume to careers@dowhonda.com, and we will keep your resume on file for future career opportunities. We look forward to hearing from you!
Positions Offered
Sales and Leasing Consultants

Administration/Reception

Appointment Coordinators

Lot Attendants/Detailers
Current Positions 
---
Cantonese / English Sales and Leasing Consultant
粤语/英语销售和租赁顾问

Dow Honda is looking for bilingual Cantonese / English speaking Sales and Leasing Consultants to join our growing team. You will play a key role within the sales team. You will be responsible for managing all components of the sales process, achieving sales targets while ensuring exceptional customer service.
陶氏本田正在寻找能说粤语/英语的销售和租赁顾问加入我们不断发展的团队。您将在销售团队中扮演关键角色。您将负责管理销售流程的所有组成部分,实现销售目标,同时确保出色的客户服务。
Be rewarded with an excellent compensation package in a phenomenal work environment.
在非凡的工作环境中可获得出色的薪酬待遇。
WE OFFER:
High volume sales
Benefit plan, including dental and prescription drugs
Competitive pay plan and bonus structure
A positive and motivating work environment
A true career opportunity
我们提供:
高销量 福利计划,
包括牙科和处方药 有竞争力的薪酬计划和奖金结构 积极向上的工作环境 真正的职业机会
IDEAL CANDIDATE:
Strong Cantonese and English written and verbal skills
Self-motivation and a passion for exceptional customer service
Respect, honesty, and integrity
Prior sales experience
A valid driver's license

OMVIC license (preferred, though not mandatory)
理想候选人:
良好的粤语和英语书面和口头表达能力
自我激励和对卓越客户服务的热情
尊重,诚实和正直
先前的销售经验
有效的驾驶执照


OMVIC许可证(首选,但不是强制性的)



If you're interested, please direct your cover letter and resume to Khalil Dagher at khalild@dowhonda.com or Dan Drouin at ddrouin@dowhonda.com.
如果您有兴趣,请直接发送求职信,然后通过 或通过khalild@dowhonda.com寄给Khalil Dagher或通过ddrouin@dowhonda.com寄给Dan Drouin。
---
Lot Attendant / Detailer
Do you have attention to detail? Are you meticulous and have an eye for perfection? Do you give unparalleled attention to detailing vehicles? Do you take pride in what you do? If so, Dow Honda has a career opportunity for you!
WE OFFER:
Friendly, professional environment
Opportunities to advance within our dealership
Group benefits plan
Ongoing training
Competitive compensation plan
Busy, high-volume dealership
Must be able to work in a fast-paced environment, have excellent time management skills, and work with minimal supervision.
POSITION DUTIES / RESPONSIBILITIES
Duties and responsibilities of the position include but may not be limited to:
Cleaning automobile exteriors, wash surfaces and tires, use cleaning solutions with cloths and brushes, rinsing and drying cleaned surfaces and polishing chrome
Protects and preserves automobile exterior by buffering, polishing, applying waxes, preservatives, re-conditioners, and dyes
Clean automobile interior by vacuuming carpeting, ceilings, and upholstery; emptying ashtrays and refuse receptacles; cleaning, polishing, and drying surfaces and treating spots and stains.
Protect and preserve the vehicle's interior by applying leather and vinyl revitalizers and preservatives.
Maintain quality service by following service standards, conducting a final inspection and correcting deficiencies.
Maintain a safe work environment by adhering to work standards and practices.
Must have a valid driver's license with a good driving record, a clean criminal record, and the ability to drive a manual transmission.
JOB HOURS
Monday to Thursday 1:00 PM-9:00 PM
Saturday 9:00 AM to 5:00 PM
EXPERIENCE / REQUIREMENTS
customer service: 1 year (Preferred)
Driver's Licence (Required)
Hours of Operation
Sales
Service
Parts
Sales
Sales
Monday - Thursday

9:00am - 7:00pm

Friday

9:00am - 5:00pm

Saturday

9:00am - 4:00pm

Sunday

Closed
Service
Service
Monday - Friday

7:30am - 5:30pm

Saturday

9:00pm - 3:00pm

Sunday

Closed
Parts
Parts
Monday - Friday

7:30am - 5:30pm

Saturday

9:00pm - 3:00pm

Sunday

Closed
SAFETY NOTICE: All departments are open while respecting the Provincial 50% capacity limit. No appointments are necessary. Mandatory face masks required in dealer, as per City of Ottawa bylaw.
Disclaimer
By submitting your email address or phone number, you allow us, Dow Honda, to include you on our contact lists to send you information about our products, services and promotions. You may revoke consent at any time by clicking on the "Unsubscribe" link in your email.